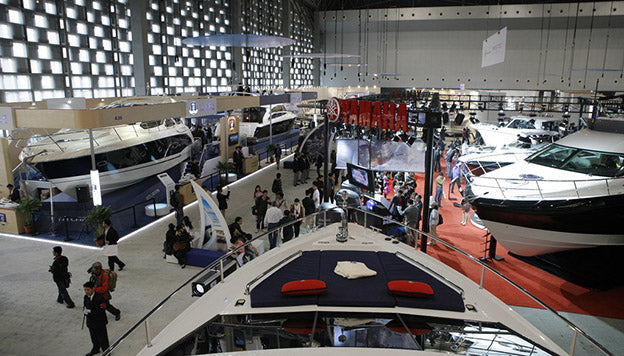 China (shanghai) International Boat Show 2019 will meet you at National Exhibition and Convention Cente (Shanghai).
The expo will show variety of Marine Products. Sections include boat & yacht, boat accessories and related service. It promises to be a valuable trade platform for boat manufacturers, marine equipment manufacturers, yacht clubs and related water leisure enterprises.
The 24th China (Shanghai) International Boat Show is the most comprehensive and longest established boat & yacht exhibition in China, which covers the whole boating industry chain. The fair will bring together more than 35,000 visitors and over 600 exhibitors from all over the world, along with 5 national pavilions.
It is the best professional platform for marine industry participants to meet, network, source new suppliers, build relationships with existing partners and shape the future of the boating industry. CIBS aims to popularize a maritime lifestyle and yachting culture all over the world.
CIBS is the only Chinese member of IFBSO, recognized globally in its field.
The fair is also co-located The Life Style Show 2019 and CPHI & FIA to showcase a complete offering of the leisure, recreation and luxury industries.
CIBS 2019 by the numbers:
35 061 visitors
609 exhibitors
55 000 square meters of exhibition area
Key product categories to be presented:
Boats: yachts, high speed boats, power boats, work boats, sailing boats
Equipment and Accessories: supporting equipment & transmission equipment, spare parts & engines, drives, propulsion systems, dock equipment, yacht related services, trailers and accessories
Water Sports: canoeing, inflatable boats, paddles, windsurfing, water skiing, surf, rubber boats, goggles, diving suits, swimsuits, wakeboarding, waterproof bags, sports bottles
Lure Fishing: lure bases, lure fishing baits, lure equipment, lure boats, lure propellers, lure detectors
RV Camping: RV, accessories and supplies, camping site planning and services, outdoor gear & camping equipment
Themed Travel: scenic spots and attractions, tourism organizations, theme travel, tourism finance products, customized travel
Well-fitness: food, medical care, daily care, sports
Parent-child Recreation: monthly clubhouses, early education, family trips, children's products, entertainment facilities
Elite Lifestyle: overseas investment, overseas property, jewellery & art, haute couture
CIBS 2019 visitors are:
Buyers, end users
Property developers, corporate buyers
Manufacturers of leisure finished boats, equipment, electronics, components and accessories
Distributers, agents of leisure finished boats, equipment, electronics, components and accessories
Naval architects, designers
Governments, research institutions
Financiers, financial institutions
Training, sea schools
Media
Sample block quote
Praesent vestibulum congue tellus at fringilla. Curabitur vitae semper sem, eu convallis est. Cras felis nunc commodo eu convallis vitae interdum non nisl. Maecenas ac est sit amet augue pharetra convallis nec danos dui.
Sample paragraph text
Cras suscipit quam et turpis eleifend vitae malesuada magna congue. Damus id ullamcorper neque. Sed vitae mid a cosmo pretium aliquet an sedo delitos. Pellentesque nulla eros accumsan quis justo at tincidunt lobortis denimes loremous. Suspendisse vestibulum lectus in lectus volutpat, ut dapibus purus pulvinar. Vestibulum sit amet auctor ipsum. Proin molestie egestas orci ac suscipit risus posuere loremous.